Board of Trustees appoints Dr. Richard Smith as Chair
21 June 2013 – icddr,b is pleased to announce the appointment of Dr. Richard Smith as the new chair of its board. The appointment was made following the meeting of icddr,b's board of trustees in Dhaka on 15 and 16 June. Dr. Smith takes over from Dr. Elizabeth Mason who has stepped down due to her on-going commitments at the World Health Organization, but will remain a board member.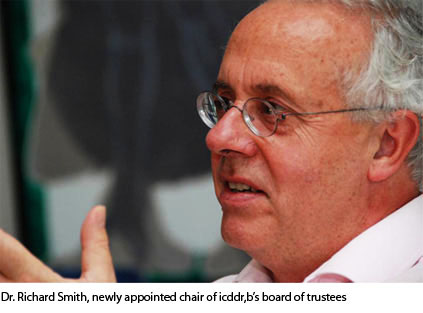 "I feel honoured to be associated with icddr,b – it is a remarkable institution." said Dr. Smith while addressing staff. "iccdr,b has made a major contribution to improving the health of people in Bangladesh and other low income countries, and I'm confident it can do still more."
Dr. Smith is a medical doctor with a long, distinguished and recognised career in public health and medical publishing. He is best known for his pioneering work at the BMJ (formerly the British Medical Journal) where he served as editor, and as chief executive of the BMJ Publishing Group. In January 2000, he was awarded a CBE (Commander of the British Empire) for his services to medical journalism.
Dr. Smith is currently director of UnitedHealth's Chronic Disease Initiative, having served as chief executive of UnitedHealth Europe from 2004-2007. Together with the National Heart, Lung, and Blood Institute (one of the U.S. National Institutes of Health) the initiative funds 11 centres in low and middle income countries doing research and building capacity on non-communicable disease (NCD).
An alumnus of Edinburgh University, Dr. Smith is an honorary fellow of several distinguished colleges, including the Academy of Medical Sciences, the Royal College of Physicians of Edinburgh, the Royal College of Physicians of London, the Faculty of Public Health Medicine, the Royal College of General Practitioners, the Royal College of Surgeons of Edinburgh and Kasturba Medical College, Karnataka, India. He is an adjunct professor at Imperial College Institute for Global Health Innovation and a  professor at the University of Warwick.
Dr. Smith has considerable experience of boards having served on many, including those of the Public Library of Science, St George's, University of London, and the United Kingdom Research Integrity Office. He is currently chair of Patients Know Best, a company that provides patient controlled records, and the Cochrane Library Oversight Committee.
Dr. Smith has served  as a member of the International Committee of Medical Journal Editors and is a founder member of both the World Association of Medical Journal Editors and the Committee on Publication Ethics.
Over the past 30 years Dr. Smith has lectured and led seminars and workshops around the globe. He is particularly well known for his writing clinics. His research papers on peer review, conflict of interest, and other publishing topics have been published in JAMA, BMJ, Canadian Medical Association Journal, and Medical Journal of Australia.
In addition to his academic pursuits, Dr. Smith has extensive experience in fundraising and management. His degree in management science from the Graduate School of Business at Stanford University, California is sure to benefit icddr,b as it continues to build the capacity required to operationalise its current strategic plan.
Always eager to take advantage of new technology, Dr. Smith is an avid proponent of social media, and blogs regularly for the BMJ. You can follow him on Twitter at Richard56
(This news item has been taken from the icddr,b website link: http://www.icddrb.org/media-centre/news/4130-board-of-trustees-appoints-dr-richard-smith-as-chair for further dissemination. This service is given following an e-mail message containing  weekly bulletin of the icddr,b was received )