28 May 2013 – icddr,b has contributed to a new international study that provides the clearest picture yet of the impact and most common causes of diarrhoeal diseases, which kill 800,000 children annually. The Global Enteric Multicenter Study (GEMS) is the largest study ever conducted on diarrhoeal diseases in developing countries, enrolling more than 20,000 children from seven sites across Asia and Africa. The findings of the study were recently published in The Lancet and provide guidelines on prevention, treatment and research on childhood diarrhoeal diseases.
The GEMS study in Bangladesh was conducted in Mirzapur, a sub-district just north of Dhaka, by icddr,b's Centre for Nutrition & Food Security.  "Better information is critical to changing the way we fight diarrhoeal diseases," said Dr. A.S.G. Faruque, Principal Investigator at the Bangladesh trial site. "GEMS shows us clearly how we can target our approach and where we need to invest our resources to make a difference."
Funded by the Bill & Melinda Gates Foundation, GEMS was a case control study conducted at seven diverse, high-burden sites in Asia and Africa: the Gambia, Kenya, Mali, Mozambique, Bangladesh, India and Pakistan. The study enrolled 22,569 children under five years of age –  a sample size that is large enough to provide comprehensive data on the causes, incidence and impact of the range of diarrhoeal diseases affecting children around the world. GEMS established a network of well-equipped laboratories in the study countries that can be used to accelerate future research on diarrhoea and other child health priorities.
Rotavirus:  a leading cause of infant diarrhoeal diseases
Coordinated by the University of Maryland School of Medicine's Center for Vaccine Development, GEMS confirmed rotavirus – for which a vaccine already exists – as the leading cause of diarrhoeal diseases among infants and identified other top causes for which additional research is urgently needed. GEMS found that approximately one in five children under the age of two suffer from MSD each year, which increased children's risk of death by eight-and-a-half times and lead to stunted growth over a two-month follow-up period.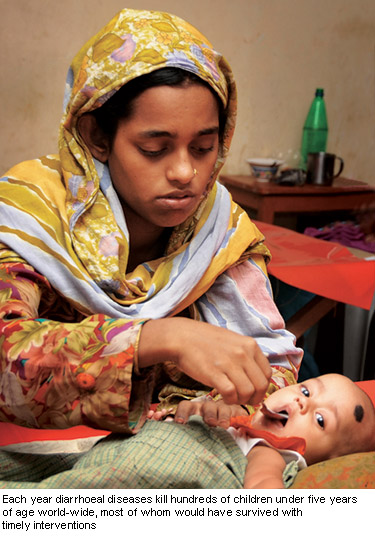 Shigella, a type of bacteria, caused the largest number of infections in toddlers and older children. Unlike at sites in Africa, Aeromonas – another type of bacteria – was the third leading cause of MSD, confirming its regional importance as a pathogen. Linear growth delays were significant among children in all age groups in the two months following their MSD episode, and a single episode of MSD increased children's risk of death more than twelvefold over the same period.
Despite many causes, GEMS found that targeting just four pathogens could prevent the majority of MSD cases.  Expanding access to vaccines for rotavirus could save hundreds of thousands of lives. Likewise, GEMS data suggests that accelerating research on vaccines, diagnostics and treatments for the three other leading pathogens – Shigella, Cryptosporidium and ST-ETEC (a type of E. coli) – could have a similar impact.
"The GEMS findings help set priorities for investments that could greatly reduce the burden of childhood diarrhoeal diseases," said Dr. Thomas Brewer, deputy director of the Enteric & Diarrheal Diseases team at the Bill & Melinda Gates Foundation.
Longer-term monitoring and expansion of interventions can save lives
The GEMS findings also suggest that longer-term monitoring and care of children with diarrhoeal diseases could reduce mortality and developmental delays. Children with MSD grew significantly less in height in the two months following the diarrhoeal episode when compared with control children without diarrhoea, and were eight-and-a-half times more likely to die over the course of the two-month follow-up period. Notably, 61 percent of deaths occurred more than a week after the initial diarrhoeal episode, with 56 percent of deaths happening after families had returned home from a healthcare facility.
Expanding access to existing interventions that protect against or treat all diarrhoeal diseases –  including oral rehydration solutions, zinc supplements and clean water and sanitation- can save lives and improve the health of children immediately.
The GEMS findings add to the scientific evidence cited in the first-ever Integrated Global Action Plan for the Prevention and Control of Pneumonia and Diarrhea (GAPPD) recently announced by the World Health Organization and UNICEF. The GAPPD strategy calls for effectively controlling pneumonia and diarrhoea, which together are the two leading causes of death among young children globally.
For more details please contact Senior Manager Communications Nasmeen Ahmed
(The article has been published for further dissemination of ICDDR,B achievements taken from the link: http://www.icddrb.org/media-centre/news/4125-icddrb-contributes-to-largest-global-study-on-diarrhoeal-diseases-in-developing-countries of the website of this international organization located in Bangladesh)