ICDDR,B  is pleased to announce the arrival of its new Executive Director, Dr. John Clemens, who took over the leadership of the Dhaka-based public health research institution on 01 April 2013.
Dr. Clemens, an expert in vaccine development and evaluation in developing countries, with a career spanning academia, government and international organisations, was appointed Executive Director of ICDDR,B by its international Board of Trustees.
A former research scientist at ICDDR,B from 1983-1988, Dr. Clemens will transition from his current position as Professor and Vice-Chairman of Epidemiology and founding Director of the Center for Global Infectious Diseases at the University of California, Los Angeles Fielding School of Public Health to take up the new post.
Dr. Clemen's previous roles include Chief of Epidemiology at the Center for Vaccine Development at the University of Maryland, and Chief of the Epidemiology Branch and Director of the World Health Organization International Collaborating Center for the Clinical Evaluation of Vaccines in Developing Countries at the National Institute of Child Health and Human Development of the US National Institutes of Health. In 1999, Dr. Clemens became the founding Director-General of the International Vaccine Institute in Seoul, Korea, where he served until 2011.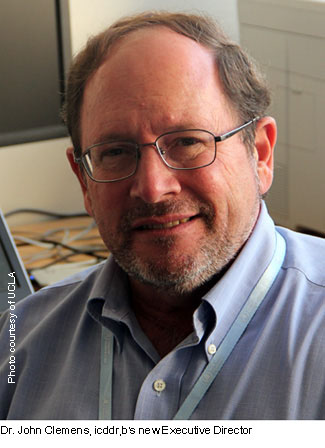 As a scientist, Dr. Clemens' research has focused on generating the evidence required for policy decisions about vaccine introduction in developing world populations, and innovative approaches to evaluating their effectiveness. He led the team that developed the first low-cost oral vaccine against cholera, which has recently deployed in Haiti, Guinea, Thailand, and Sierra Leone, and which is now being piloted in Dhaka. In 2010, he was awarded the prestigious Sabin Gold Medal in recognition of his work.
Dr. Clemens has published more than 350 peer-reviewed papers, and serves on the editorial boards of several international journals. He is an elected member of the American Epidemiology Society and a Fellow of both the American College of Epidemiology and the Infectious Disease Society of America. A member of multiple WHO expert advisory committees, Dr. Clemens is a graduate of Stanford (BS) and Yale (MD) Universities.  He received his internal medicine training at Case Western Reserve University and his post-doctoral research training in clinical epidemiology as a Robert Wood Johnson Clinical Scholar at Yale University.
Commenting on the new appointment, Dr. Elizabeth Mason, Chair of ICDDR,B's Board of Trustees, said: "John Clemens is an outstanding individual who is admired and respected in his field. The Board has every confidence that he will continue to build ICDDR,B's reputation as a leading pubic health institution, committed to generating and translating knowledge into practice and policy".
Dr. Abbas Bhuiya, who has served as ICDDR,B's Interim Executive Director since July 2012, commented: "This is an exciting time to be leading ICDDR,B, and John Clemens is an excellent choice. He brings vision, experience, and an international reputation to the role. I wish him every success".
"Working in ICDDR,B in the 1980's had a profound effect on my early career, and I am absolutely thrilled to be returning as its Executive Director," said Dr. Clemens. "At a time of rapid change, I am committed to ensuring that ICDDR,B continues to contribute to debates, and to shape public health policy, not just here in Bangladesh, but globally".
(Based on ICDDR,B link http://www.icddrb.org/media-centre/news/4112-icddrb-welcomes-new-executive-director)